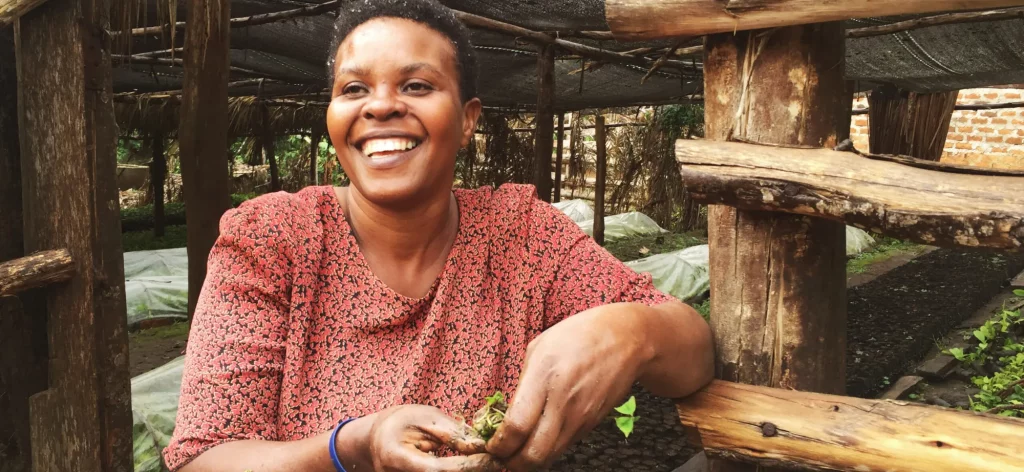 Improve farmer livelihoods through value-added services
Safeguarding the future of coffee requires that coffee is a viable business for all involved, starting with the producers of the coffee.
Around 12.4 million of the 12.5 million coffee producers in the world are smallholders, and the majority struggle to ensure a decent living for their families. While prices seem the obvious candidate to work on, we cannot control coffee prices established by the futures market and market movements may eat up premia within hours. For long-term success, producers need to understand all factors determining their income – prices, productivity, land-size, costs and risks – to be able to run their farms as businesses and make smart investment choices.
Coffee Sourcing with a Purpose
Through NKG Bloom, our sustainable sourcing initiative, we are investing in the establishment of Farmer Services Units (FSUs) within our export operations to provide value–added services to producers. Currently, 177 employees are part of our dedicated teams offering services for smallholders and farmer groups. The NKG Bloom offer to producers includes trainings in coffee-farming and business best practices, plus access to markets, infrastructure, inputs, seedlings and financing.
There is no one–size–fits–all solution: What makes NKG Bloom unique is the diversity of its service packages addressing the needs of producers in each NKG Bloom country. 
This video about NKG Bloom addresses the often precarious living conditions of smallholder farmers, shows the motivation and necessity of NKG Bloom, and explains why buying NKG Bloom coffee makes an important contribution to the long-term profitability of green coffee farming. It also explains how NKG Bloom provides smallholder farmers with the opportunities and resources they need to run their farms optimally and find a way out of poverty.  
As the first NKG Bloom country, Uganda offers high-quality fertilizers with financing, unconditional cash transfers and trainings on farming as a business, financial literacy and good agricultural practices. Currently, Ibero Uganda is deepening both its financial portfolio and agricultural extension services.
of fertilizer distributed
Starting in 2014 under the name of Por Más Café, NKG Bloom México offers an extensive 7-year renovation program. The comprehensive package includes long- and short-term financing, seedlings of resistant varieties using ECOPIL* technology, training and improved market access. 
Establishing the first ECOPIL* nursery in Honduras to expand the renovation pilot is just one of the successes in Honduras. Tackling high production costs and safeguarding the environment, a core focus is on innovating and training producers on bio–inputs, including composting of cherries.
Given the very low levels of productivity, small changes can have large effects. Producers can see their yields going up ten-fold, mostly due to improved pruning and fertilizer use. Beyond having built a network of extension officers, Tropical Farm Management Kenya works with cooperatives to invest in processing, improving quality and income. 
NKG Bloom is recognized as sustainability scheme under the Global Coffee Platform's Equivalence Mechanism. By 2030 we aim to set up Farmer Services Units in 10 countries, reaching 300,000 smallholder farmers with value-added services. Further, we are continuously adapting and growing our service offerings, working with farmers to narrow the living income gap.  
total number of smallholder farmers accessing services
Click here to visit the NKG Bloom website and join our efforts in creating positive impact in coffee communities!  
RELATED
sustainable
development
goals
Further goals of the Responsible Business Program:
Please click on another goal to find out more.